Saturday, February 15, 2020
6:30 PM – 9:00 PM CST
Doors open at 6:00pm
Room 13 @ The Old Chicago Inn 
3222 North Sheffield Avenue
Chicago, IL 60657
Buy Tickets @ Eventbrite
It's the 1920s and the Mob is at it once again, with the shocking murder of the top crime boss right here in Chicago. You are a guest of the party and must solve the mystery before more chaos breaks out!
This event is improv-inspired, where you will get to play the role of a suspect, detective, or witness while mixing and mingling with others. Each ticket includes hors d'oeuvres, and cocktails are available for purchase. All guests will receive prior to the event an invitation, instructions, summary, personal character sketch, and secret password for entry to the speakeasy. We encourage having a blast getting into character and dressing in 1920s themed attire as we will have a photographer capturing the moments! Photos will be available to view after the event and raffle prize giveaways for mystery winners!
The resident bartender will be serving up classic cocktails, using recipes and ingredients that hearken from the Jazz Age and earlier. While pouring libations made with the finest ingredients, the bartender also shares knowledge of the history of the cocktail, often with cultural anecdotes that bring the Prohibition era to life.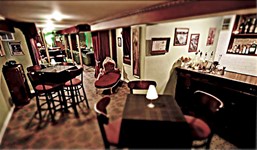 The purpose of life is to live it, to taste experience to the utmost, to reach out eagerly and without fear for newer and richer experience

Eleanor Roosevelt